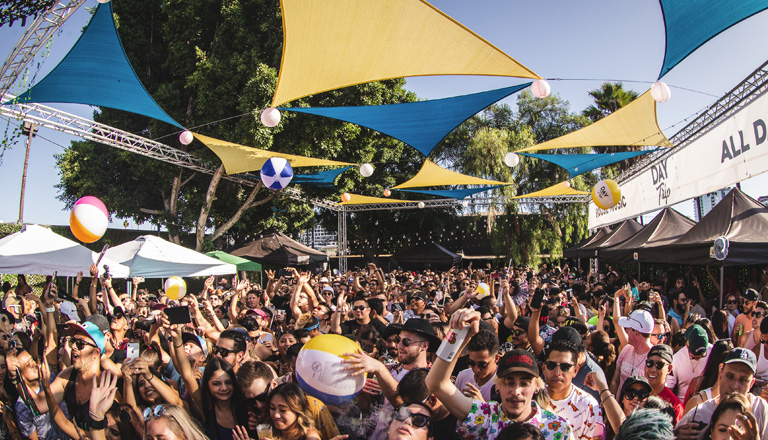 Tickets
A GA Experience Pass grants you entry to Day Trip Festival. An open air affair complete with multiple stages of house music, craft cocktails, gourmet food trucks, signature fish bowls, complete with an epic firework show. For our 21+ family only.*
Lockers
Why stress about losing your ID, dancing with a full backpack, or carrying around new merch? Keep your items safe and secure throughout the weekend—and your phone fully charged—by renting a locker. Lockers are internally equipped with a universal phone charger, so whether you've got an iPhone or an Android, you can juice up safely and come back for it without missing a beat. Each locker measures approximately 8″ high, 12″ wide, and 18″ deep—plenty of space for backpacks or purses. And here's a pro tip: Lockers make a great meeting point for you and your crew.
Hotels
Insomniac has teamed up with area hotels to bring you the best rates possible.
Skydeck
Inquire below to be the first to know if tables become available at Day Trip Festival 2021!
*State and County health officers strongly recommend that attendees be fully vaccinated against COVID-19, obtain a negative COVID-19 viral test prior to attending the event, and wear a face mask while in attendance.